Bibold DoITNow Advantage (BESC & DMaaS)
Benefits of this new unified data-driven management model
Bibold makes it possible to accelerate the use of information as a competitive advantage, thanks to data-based decision-making.
With BESC your Organization will be able to start in record time to perform advanced analytical activities such as e.g. : Predict trends, detect patterns, automate alerts, improve reports, reduce workload, visualize behaviors, streamline information flows, execute changes in real time, enhance collaboration, have up-to-date information, What-If scenarios, etc.
Our DMaaS services include all the DataOps resources that the Company requires to manage its end-to-end Data Value Chain, enhancing operational agility:
✓ Operating Data (connect, process, generate, discover, and exploit), anywhere, anytime, and from any device. And it does so in real time, including People, Devices, Processes and Sources of Information.
✓ Implementing the Single Truth and empowering the governance of the Data along with its management and quality from beginning to end.
✓ Improving the exploitation of data through collaboration among managers thanks to our self-discovery and intelligent visualization environment, starting to collect all the data we will need for our decisions tomorrow.
✓ Accelerating Analytics, BigData & AI organizational capabilities from today.
✓ Deploy a data-based management methodology by continuously improving the analytical maturity of the company.
✓ Building the foundation of your Intelligent Enterprise with Federated Analytics, capabilities
✓ Semantics, Cognitive Integration, Transformative Mobility and Hyperintelligence.
In short, we develop our vision on the value of information for organizations, making their data more profitable, minimizing risks and eliminating technological complexity.
The DoITNow Methodology as the basis for detecting improvement GAPs
'

'Perceive Earlier, Decide Smarter, Execute Faster''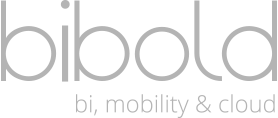 ©2021 All rights reserved
Bibold Solutions S.L.