Success Cases
While other companies offer standard BI solutions, we like to understand our customers' needs and develop a customized solution for them. We support them throughout the process: from understanding their needs, creating a customized solution for them and supporting them when the project is already implemented.
We have several cases, but we would like to highlight the case of Balearia, which is one of the main transport companies for goods and people between the Peninsula and the Balearic Islands and the Canary Islands. In this particular case we provide you with a solution for automated fleet and crew management in real time. We were able to optimize the management of its crew (which included shipping, travel, employees, etc.) and as a result Balearia saved costs by avoiding crew outsourcing.
Another relevant case is the case of COAC, in which we are immersed for the moment. COAC stands for Col·legi d'Arquitectes de Catalunya, which is the College of Architects of Catalonia, an association with more than thirteen thousand active members. We have placed ourselves at the heart of your data management with our DMaaS solution and offer you real-time data analysis.
Another success story has been our collaborations with Telefónica (the main Spanish PTT). Telefónica has begun marketing our Bibold solutions thanks to an agreement whereby the Datacenter and Communications part is provided by them. This facilitates the integration of our Cloud platform into your Corporate Customers.
An important client of the hospitality industry is the hotel chain ABBA. We put at their disposal a platform so that they could manage daily the price of the rooms available depending on the different fluctuations of the hotel market, so that they could propose an optimal price for sale in the main room manager Booking. In addition, we integrated all their hotel business information into a single dashboard.

Italtel is a leading multinational company on Information and Communication Technology. The project we carried out was the analytical visualization of their NOC (Network Operation Center) and the integration of their main tools for team management and ticket management. The solution allows Italtel and its customers to check the quality of IT services provided in real time and from any device.
Tecnocom is a company of Indra, one of the leading global consulting and technology companies, the leading company in Information Technology in Spain and the technology partner for the key operations of its clients' businesses around the world. Bibold provided them with a balanced scorecard through which they can know the contractual status of their corporate properties worldwide. In addition, it incorporates a monitor management of the demand for electricity consumption for each of the buildings.
''Perceive Earlier, Decide Smarter, Execute Faster''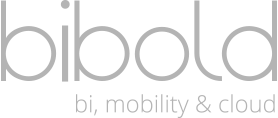 ©2021 All rights reserved
Bibold Solutions S.L.